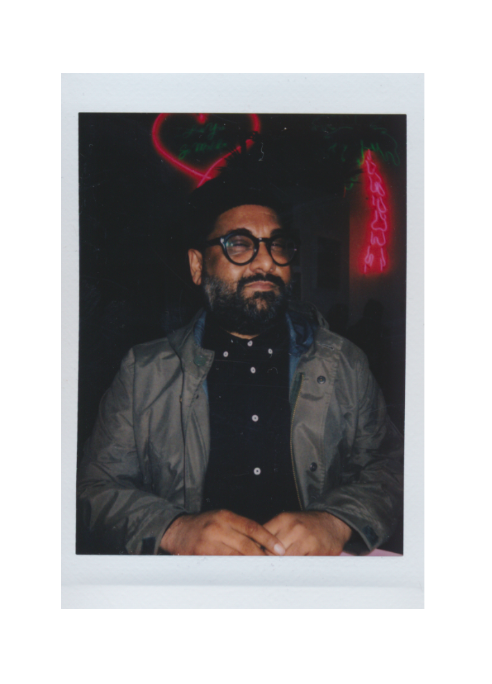 Borough: Brooklyn
Profession: tv/film producer and director
Say Hello: @jazzbeezy on IG and Twitter. Not on Facebook, since 2011. And don't miss it at all.
Tell me something about yourself?
The industry I work in now has been my habitat since I started working at MTV News & Docs in 2004. While it's work that I love and really feel at home doing, it's also really the third career I've had. Just simply saying that reveals one interesting fact most people are surprised by: that i'm much older than I project. Indeed, I am. But I carry a youthful spirit, and that plus my genes work to hide my many years on this planet. In that context, I guess some people might find my other two careers interesting: i spent many years as a music/arts journalist writing for magazines, newspapers and websites; and, before that, while in college, i was co-founder of an indie hip-hop label called SoleSides that gave birth to DJ Shadow and Blackalicious. I've got a lot of miles on me, I guess.

Nur as 6-word story:
Hot brown girl in the sweatsuit.
How did you meet?
I had known of Nur for a while before we actually met. She was not only friends with a lot of people I was friends with already, but she was super tight with folks whose taste in others I wholeheartedly trusted. This was around the time I worked at The Fader, like 2014 or 2015, which was this time in my life where I was a kind of elder statesman in a senior role, working alongside a room full of twenty-somethings. While that dynamic was new and a bit strange for me, one of the wonderful things about the experience was making new friends who were younger than me but super interesting and who shared enough common language that we could still socialize and have legitimate friendships. It's through those folks - and others like them - that I came to know about Nur. So I started following her on Instagram, and enjoyed from afar this stylish, pretty, brown girl who loved her family and loved her culture and was tight with my people who hung out with only other extraordinary people.
It's because of those mutual friends that we eventually came to be connected. And then we met at some record label event or office visit, and then met again at another industry thing, and that eventually gave birth to being homies for real. We took a shortcut there, and I think that shortcut was the shared identity of being brown and tight with our families…and also maybe the fact that we're both kinda short.

I'll say here what I said to Nur when we hung out the day before she left New York: I regret that we didn't get to be friends sooner. Because she's good people and I'll miss her in the way you wouldn't normally miss someone you've only known for a little while.

Most treasured way you spent time in 2018?
Turning the guest room in my apartment into an office, working at home, listening to music all day, wearing shorts every day, taking in the sunshine, and spending every day eating right, exercising, meditating, and hanging out with my dog while simultaneously forging a new chapter in my career.
What advice would you give someone who's leaving NYC and moving to a new city?
If you feel like you need to leave, just do it. Leave. New York will be here whenever you want to come back, to visit or return. New York won't change. You'll be different, but it will be the same - and because of that, you'll appreciate it more. Go have the next adventure. You can always come back if you want to.
FURTHER EXPLORE THE STORY…